I hate to say it, but it is officially Fall.
I had to scrape ice off my car window this morning! and it was almost 9 am!!
Boo.
But on the bright side... Fall Decor!
Chris and I don't have ANY fall decorations. Well today I went to Porter's (which is like a small Rexburg version of Hobby Lobby or Michael's) to get a little easel and one of their fall displays was of a pine tree with twinkle lights and fall leaves and little wicker pumpkins, I LOVED IT! I remembered that last Christmas we bought a little 4 ft. pre-lit tree and so I was inspired to try to cheaply copy their cute Fall tree.
Here is my version!
I went through our box of ornaments to see if anything would match and I found a box of little glittery pine cones I had completely forgotten about, they made a great fit in the tree!
I am going to get some little pumpkins to put on the table to cover the tree base
After I had wrapped the garland around the tree Chris and I were looking at it and he said it needed a topper and Chris (being the genius he is!) remembered we had just bought this leaf ornament in Oregon in August! (We try to find an ornament on all of our vacations-- I think it makes a useful souvenir) It matches perfectly, right? Good thinking babe!
I am really happy with how it turned out! Especially since I only paid around $9 to put the whole thing together.
Happy Fall everyone! :)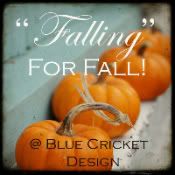 Click for more Fall Decor!